The Pallata Tower, well known as "Pallata", is a medieval bricks tower, with a height of 32 metres, in the city centre of Brescia.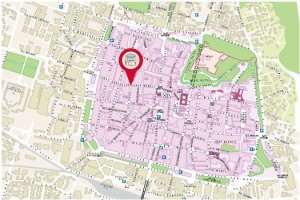 The name Pallata comes from a distortion of the name Pallade, that refers to Athena, maybe because of the use of Roman material for the construction of the tower. The structure was built in 1254 in the Saint John district, it is square-shaped with Botticino marble and protects Saint John port, put on the first medieval city walls.
It is the last surviving fortified structure of this city wall. In 1400, decorative elements were added, such as the clock, cotto battlements and a small tower.
In 1497, in the front of the tower a fountain was built, from which wine flowed; fountain was the starting point for the race of harlots (from Pallata to Porta Bruciata, near Via Musei).
In 1597, another fountain was put on the western side, with three marbles, the central one is Triton, the interpretation of the others is controversial: some people say that they are the representation of Mella and Garza, the two most important rivers in Brescia,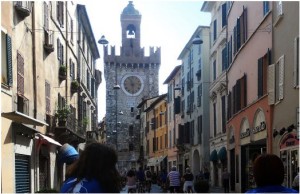 others say that they are Garda and Iseo, two lakes. The tower was used, for a period, to contain the fund of the municipality.
Near Corso Mameli there is a basrilief of Saint John and the eagle, near via Pace there is a tower with a marble of the bishop Apollonio, under the belfry there is a small church.
In the small square near there, town criers with trumpets called citizens to listen to authorities.
PDF file download: The Pallata Tower
Web site: http://www.settemuse.it/viaggi_italia_lombardia/brescia_citta.html