The street crosses the city centre from Corso Zanardelli to Loggia Square, skirting on east porticoes, full of bars and shops, and on west buildings surrounding Vittoria Square.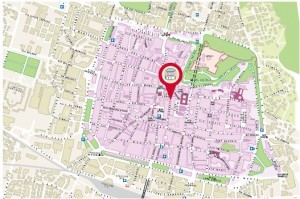 The street was built by Viscontis in the XIV century and in that period it was a street along the pit at the foot of the walls of Viscontis. In 1822 the municipality commissioned the building of the Granarolo arch, which joined the colonnades in the point in which they were cut through by Giulio Bevilacqua street, to avoid that people, in case of a raining day, got wet. Between 1927 and 1932, the western side, where there was the area of Pescherie, was completely destroyed to build some buildings on the perimeter of the new Vittoria Square. The street was enlarged and the facades of the new buildings were withdrawn for few metres: the previous streets that linked the Pescherie quarter to Duomo Square are traceable because they were in correspondence to the two portals opened towards Vittoria Square, and Granarolo colonnades were in the same position of the colonnades of the current Vittoria Hotel.

Once the street was known as Contrada del Granarolo, it changed its name in 1849, after the important episode of resistance against Austrian occupying forces.
Today in the street there are lots of shops and bars, and on the opposite side of the colonnades there is Astra Cinema, inaugurated in 1948, closed in 2009 and reopened some years after.
PDf file download: X Giornate Street
Web site: http://www.bresciastorica.it/la-modernita-di-via-delle-spaderie/