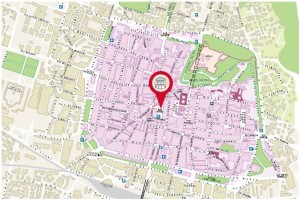 Summary: Vittoria Square is quite new, and it is famous for antifascist protests around the "Bigio", a marble statue built in the Fascist era, finally removed.
The square was born with the destruction, in 1932, of the medieval area of Pescherie, which was composed by narrow alleys, with medieval buildings. The major activities in the area were fish, cheese, meat and corn trade. In 1927, the Roman architect Marcello Piacentini won a open competition for the modernization of the area. His project was about the creation of a square and a readjustment of urban road network: two perpendicular arterial roads that would have sped the traffic. Changes started in 1929 and lasted more or less two years, but in this period lots of historic works were lost, such as the Romanesque church of Saint Ambrogio and the ruins of Curia Romana Ducis. Lots of historic evidences emerged from excavations, such as the foundations of late antiquity city walls (now below the Palace of Post Office) and of a tower (in front of the Palace),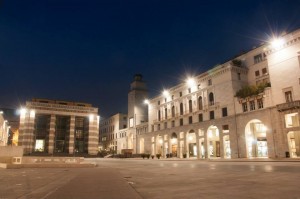 foundations of a ducal palace of the Lombards (in the south of Monte di Pietà Nuovo), ruins of three bridges on Garza torrent (two on the east of Ina tower, and one on the north of Mercato Square) and a wall of a XIII century church, decorated with frescoes, in the north of the corner between Corso Zanardelli and Corso Palestro, found in 1937. In 1932, a marble statue was put in the square, the official name was "Era Fascista", but in dialect was "Bigio", it was removed in 1945, after lots of antifascist protests. In 2008, during the excavations for subway, foundations of a medieval tower were found, so, works for subway were slowed down. Today Vittoria Square hosts lots of events, such as all-night out (because lots of shops are opened till midnight), the famous "Corri x Brescia" (a non-competitive run), dance festivals and "Europa in Piazza", with more than 120 stands. In winter 2014 there was also an ice rink.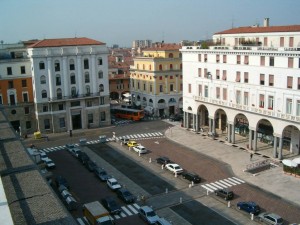 PDF file download: Vittoria Square
Web site: http://www.bresciastorica.it/foto-storica-piazza-della-vittoria-brescia-anni-trenta/